Port Esportiu Marina Palamós aims to promote and facilitate the practice of nautical sports, respecting the natural environment in which it takes place. That is why we establish an environmental management system with the intention of achieving:
Protect the environment and prevent pollution from our activity. To this end, actions are carried out periodically to assess and take measures to minimize the impact of the Port's activities on the environment.

Control and reduce the consumption of natural resources such as water and energy.

Minimize and control the generation of special and non-special waste from the activities carried out in the Port.
Climate action
Adherence to the Climate Action commitments of the Generalitat de Catalunya.
Renewable energies: Electricity self-sufficiency
Electricity generation via photovoltaic solar energy.
Reduction of consumption through LED technology.
Promote responsible consumption.
Promote sustainable mobility through the installation of charging spots for electric vehicles.
CO2 absorption through the implantation of almost 4,000 new plants of various species that easily adapt to the marine environment and the geographical area of ​​the port.
Neutralization of polluting gases produced by vehicles through the installation of photo-catalytic pavements.
Management of dock and residual waters.
Sustainable management through the purification of wastewater produced in the work area.
Cleaning campaign of the seabed of the port. Every year, before summer. You can participate!
Anchoring buoys Cala Seniá and S'Alguer Boies salguerisenia
Regeneration of marine life
Biodiversity regeneration systems through the application and combination of state-of-the-art scientific innovations.
An innovative and exciting project that we have been part of since 2021.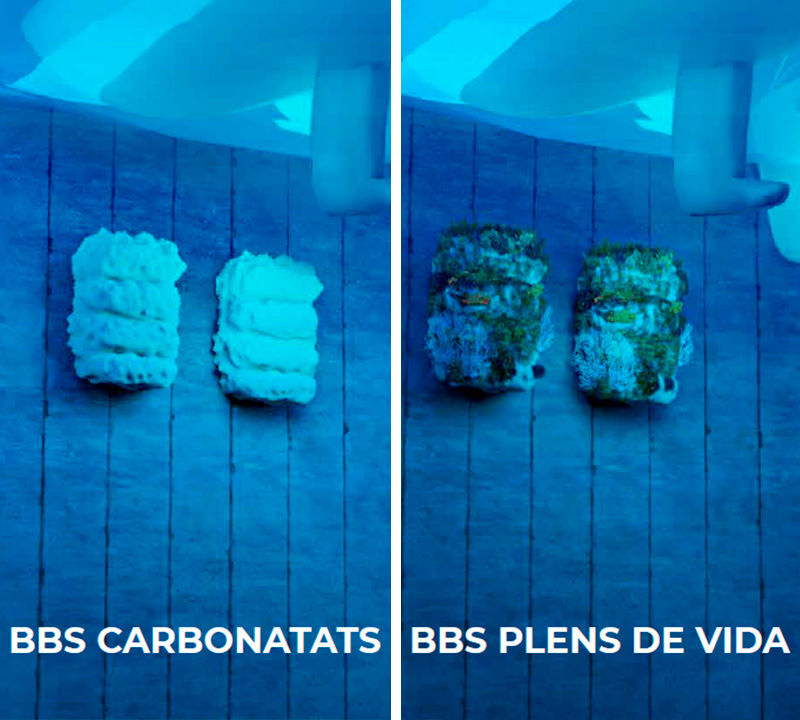 Waste management system
Installations for the collection and segregation of similar urban waste.
Installations for the collection and segregation of hazardous and non-hazardous waste generated in the maintenance of boats.
Accreditations and annexes